I was lucky enough this week to be given the opportunity to try out Carte Noire's new Nespresso compatible espresso pod range.
Right through from the delivery to coffee pour, this has been a treat of a review.
First of, bravo Carte Noire for the stunning box set this arrived in. Wrapped in a golden bow, in giant black box, nestled in shredded black paper were 4 different espressos and a set of espresso cups to trial the coffee with.
Carte Noire has released this collection to be capable with Nespresso machines and the most exciting bit about this collection is that it will soon be available in Supermarkets!
I love Nespresso - I'm a huge, huge fan of their coffee, their service and their design. There's pretty much nothing they do wrong, however - THEY'RE NOT STOCKED IN SUPERMARKETS!
But these babies are!
But convenience is not the most important factor with coffee selection - no, of course it's taste.
I got to try out 4 of their flavours, Elegant, Delicat, Aromatique and Intense.
Elegant
has a strength rating of 3 - it's an 'exceptional pure Arabica coffee with a smooth and subtle taste enhanced by cereal notes'.
Delicat
has a strength rating of 5 - it's 'a pure Arabica coffee with fruity notes and a silky texture'.
Aromatique
has a strength rating of 7 - it's 'an aromatic pure Arabica coffee with delicate hints of cocoa'.
Intense
has a strength of 9 - it's 'a rich, intense blen of pure, darkly roasted Arabica coffee'.
Since mid-strength Nespresso are my favourites, I thought Delicat might be the safest to start. So, if you're a Nespresso light pink (Rosabaya) fan this is the one for you.
A bit about the range:
Some of the espressos are accompanied with subtle fruity notes, others offer a more complex chocolatey or nutty aftertaste. They're all made with Arabica coffee with a perfectly balanced taste.
The boxes the pods are packaged in are very different to Nespresso, who come in long, thin boxes. Carte Noire's are in square boxes and each pod is individually wrapped. The plastic wrapping is quite tough to open and the boyfriend and I both couldn't open the packaging without scissors, so this is a bit of a snag, compared to Nespresso.
And all of the pods, despite which flavour you've selected are black, so if you have them in a Nespresso compatible pod holder you won't be able to tell which flavour is which (you can see my black pod against my Nespresso pods)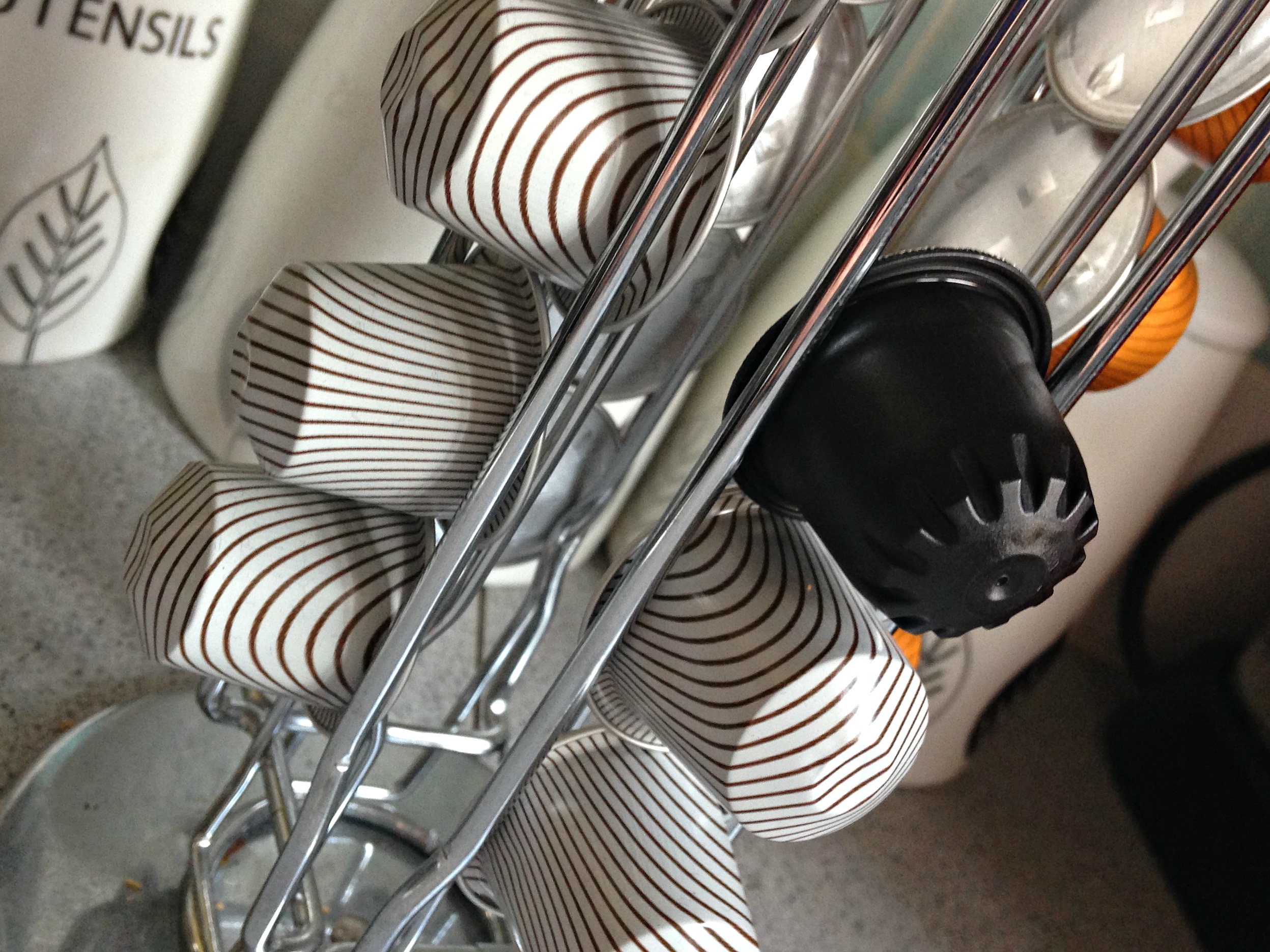 But of course the pods fit perfectly in the machine and create an excellent looking cup. Just look at this crema!
As usual - I've made my coffee with a dash of boiled water, a dash of milk and a shot of espresso. It just fits in the cups I was given - so they must be double espresso cups.
This is the coffee half drunk
So the pods work like Nespresso, look quite like Nespresso and pour a coffee just like Nespresso. But how did it taste?
This specific flavour, the Delicat was absolutely delicious. Honestly, absolutely incredible. The boyfriend and I had 1 cup and then another straight after. Within 2 hours we'd had another. This is quite unusual for us to have so many coffees. It was just so delicious we couldn't stop drinking it!
The espresso cups are now our favourites as they insulate the drinks well without chilling the coffee when it hits the cup.
To make sure this is a fair representation I do have to say the downfalls are that the pods are individually wrapped in very tough packaging (not as environmentally friendly) and it's a bit annoying that all the pods are the same colour, but taste if the key factor with coffee selection and these are simply divine!
I am one happy lady that supermarkets will now be stocking the Carte Noire Nespresso compatible pods (as of 11th February) as I will be definitely be purchasing these again!
They are now one of the first major brands available in supermarkets to now offer coffee capsules for a convenient and affordable way for coffee lovers to enjoy barista style coffee at home.
I recommend having a coffee with brunch...
Pin It Now!